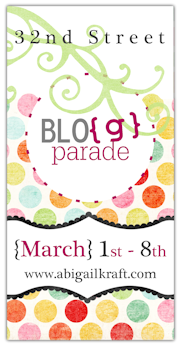 Another giveaway being hosted by;
http://absartblog.blogspot.com/2010/02/you-all-up-for-some-fun.html
, is having a blog party! To enter, visit the site, link up and answer a few of the following fun questions! And because I'm a sucker for giveaways and for answering surveys, here are my responses.
1. What's your favorite time of the day, and why?
I'd have to say late evening. Home from work, dinner and the dishes are finished and its just Ty and I cuddeling on the couch watching tv. I love this time of day to unwind and just be with my husband. Nothing to clean or tend to. Just us two speding time together.
2. If health wasn't an issue, what food could you live off of?
This is hard one for me because I adore food in all forms! I am definatly a little more than a corn fed Iowa girl! Some of my favorites are spaggetti, chinese, and tuna noodle casseroll but I if I only had one to eat for the rest of time itd be fried chicken hands down! Yum! Load me up with mashed potatoes & gravy and corn on the cob! That's my ultimate meal!
3. If you could have one wish granted (besides wishing for more wishes), what would it be?
I think this is too easy and obvious, it'd be to have my babies here with me alive and happy. I would wish that they would outlive me instead of the other way around. That one wish would pacify me for the rest of time.
But if that werent an option I'd probably wish it on something trivial like 50 billion dollars or something, cuz lets face it, who out there wouldnt love some cold hard cash with no strings attached! Me, Me, Me!
4. What's one thing that you get teased about a lot?
How clumsy I am. I dont think theres a wall in this town that I havent walked into, a staircase I havent tripped up, or a single part on my body that I havent bruised in some accidental way. If there is food to spill or something to break, look out!
5. If you could choose one movie, book, or TV show to spend your life in, which would you pick? What type of character would you be?
This ones a hard one for me too, but I think I've setteled on Leave it to Beaver. LOL, I know I know, but I wanted something where everyones problems are always solved within 30 minutes and everyone always gets a happy ending. Babies dont die in shows like that so yes, I'd chose this one, in a world far far away from todays reality shows.
6. If you could have one talent that you don't already have, what would it be?
This would probably be anything artist. Painting, photography, or writing. I love all of these things but Im not really great at any of them. But my ideal existence would be to do all of these things and actually make a living at them. I couldnt imagine a better carrer than that.
7.If money were no object, where would you go on vacation?
I think Id take our orginal honeymoon to Punta Cana in the Dominican Republic. We were all set to have an amazing week an a half at the Excellence Resort on the honeymoon package. I had it all set. Our room had a private patio with its own hot tub overlooking the ocean, massages, romantic dinners, scuba diving and horseback riding. But this never happened. We had a mishap with my passport and didnt even know it untill the day we showed up to board the plan. And because the airline screwed up the time that we cancled we were only refuned half of the cost. So we ended up going to Ponte Verde Beach in Florida instead. It was no were near as grand as what we were suppose to have but we did enjoy ourselfs anyway. I just wish that could have been in our private hot tube listening to the waves.

8. If you were an awesome singer, which genre would you sing?
Probably Country or Christian. I love love love Kari Jobe and Carrie Underwood. It seems like all the music in those genres tell a story.
9. If you could have a $10,000 shopping spree to one store, what would it be?
Easy, Target! You can everything at a Super Target! I could probably have that spent within a month!
10. If you could live in any point in time, when would it be?
Hmmm, I'm pretty traditional so probably the 50's. I like the simplicity of the times and how non-controversial they were. So yes, a housedress with aprons and pearls for me please!
11. If every outfit in your wardrobe had to be one color, what would it be?
Blue, definatly blue in any variation of it. And yes, that would include denim. I live in blue jeans.
12. If you were one of the seven dwarves, which one would you be?
(Doc, Grumpy, Sneezy, Sleepy, Bashful, Happy, or Dopey)
LOL, Sleepy for sure and if you wake me up before the alarm grumpy!
13. What's the last album you listened to?
Album, I dont know for sure. I listen to my ipod and radio the most. I think the last cd I listened to was the Walk the Line Soundtrack. I love this movie and Johnny Cash!
14. What's something we'd be surprised to know about you?
Suprised to learn, Hmmm? I am the youngest of 3 girls. When I was five I found a penny that I thought my sister would take from me, so I swallowed it. Yup, not my brightest idea but I got my first moped ride out of the deal when my oldest sister threw me on it, my middle sister riding her bicycle along side, drove me to my Dad's body shop. He took me directly to the doctor which is where I got my first X-ray. LOL, lots of firsts that day! Moral of the story, even at five I liked cold hard cash, HAHAHA!